It's the wedding season in Singapore! More and more couples are getting married in smaller, intimate sessions due to the ongoing pandemic. What if you're out of ideas on what to get for the happily-married couple yet want to stand out with your wedding gifts? Celebrate their new milestone with these 10 amazing wedding gifts from Giftano we're sure they'd love!
There's no way to have a honeymoon overseas at the moment, so the next best thing is a staycation at one of the best 5-star hotels in Singapore! 
Send this Staycation for 2 ($390) at Fairmont Hotel by Fairmont Singapore to your favourite couple and let them enjoy a luxurious one-night stay in each other's company. This package also includes a breakfast buffet for 2 that the couple can indulge in. It's the perfect wedding gift for a lavish honeymoon in Singapore and to let them spend some long-awaited time together. 
Chocolates are great and all, but making and receiving handmade chocolates from a loved one is even better!  Gift this Chocolate Making Workshop For 2 ($495) by Fossa Chocolate to a newly wedded couple and let them custom design their chocolate delicacies.
In this workshop, they will learn the basic skills of making chocolate and the hand tempering and moulding techniques to create the perfect chocolate treats. It also includes a tour of Fossa Chocolate's factory, tips on achieving shiny chocolate and creating their own bonbons and truffles. All materials and ingredients will be provided and the workshop lasts for approximately 3-4 hours. 
It's a great couple activity for any newlywed to bond and spend time together, and find out who is really the better 'cook' in the relationship!
Looking for a unique but fun wedding gift that both parties can enjoy? 
Treat your favourite lovebirds to a Make Your Own Perfume Workshop For 2 ($250) by Je T'aime. This workshop starts with a 'Perfume Personality Test' and the couple can start creating the perfume for each other based on those results. Each couple can bring their newly created perfume home in 3 bottles of 10ml and 2 hand-polished crystal bottles of 75ml.
And if they prefer for it to be a private affair, pick the Make Your Own Perfume Workshop – Couple ($750) where it will be just them and the perfumer guiding them. 
If you're looking to treat the new husband and wife to an entirely different dining experience, gift them with the 3-Course Mystery Menu for 2 ($207.16) by NOX – Dine In The Dark.
Experience a one-of-a-kind culinary experience by dining in the dark! This 3-Course Mystery Menu consists of 12 dishes that are enjoyed in pitch-black darkness. Let the newlyweds guess their way through the meals and put their taste buds to the test. It's also a sure-fire way to test their teamwork as a brand new couple as well as providing a memorable intimate experience for them.
Nestled in the Seletar countryside, The Summerhouse is a unique dining destination that offers a fantastic nature view and farm-to-table meals. The Garden Dome Package for 2 ($470.80) is a great wedding gift for the newly wedded couple to enjoy a lovely 'summer retreat' after an eventful wedding, especially since an overseas honeymoon is out of the question right now.
This package includes a 9-course communal menu and a premium bottle of Prosecco for the couple. Treat them to some savoury nature-inspired meals using products from their in-house garden for the perfect couple's retreat away from home!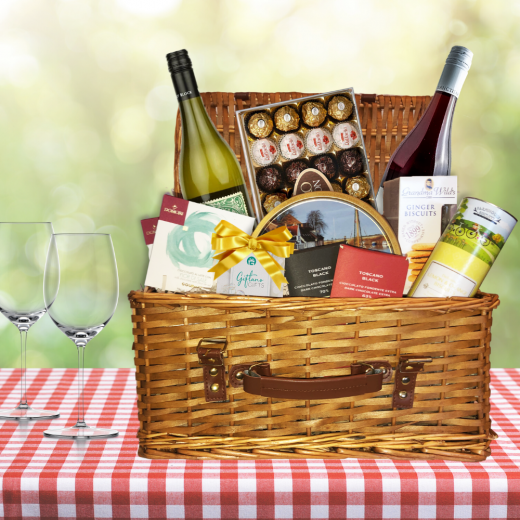 A hamper gift is a great way to say your congratulations especially if you couldn't attend the wedding due to certain restrictions and limitations of Phase 2 such as the number of people allowed. Send your well-wishes to the couple with the Celebration & Cheers Hamper ($180) from Giftano!
This hamper is filled with a vast selection of chocolates and wine that's sure to bring the celebratory cheer to an all-time high. Let the newlyweds and their family commemorate the happy occasion with the Walnut Block (Organic) Sauvignon Blanc (2019) or the Sanctuary Marlborough Pinot Noir (2017) wines and indulge in the different assortment of chocolates.
Each hamper comes with a complimentary greeting card that you can personalise, making it all the more special. Free islandwide delivery is also available so that's one worry to cross off the list!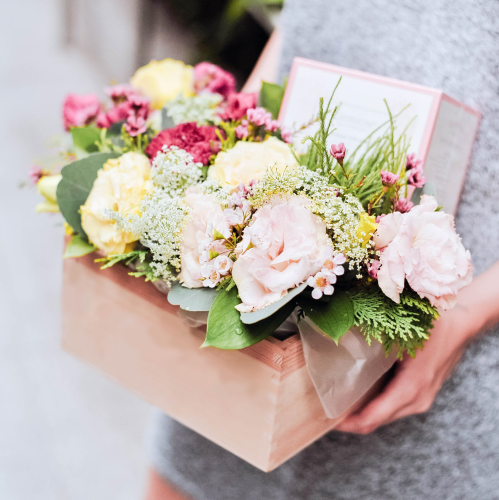 Show the newlyweds just how happy you are about their wedding by sending your well-wishes with a customisable floral arrangement. Send a Floral Crate ($85) their way with free islandwide delivery from Giftano Flowers. 
Fresh flowers and leaves are delicately arranged in a wooden crate that's sure to brighten up anyone's day! Pick between two colours for the flowers (sweet pink or pastel pink) and opt to add on a tea package to sweeten up the crate. Don't forget to enhance it with a complimentary greeting card message from the heart to give it a little more personal touch. 
Want to gift something practical for a loved one's wedding day? Pamper the Groom-to-be and let them look their best for their big day! 
This 'Groom the Groom' package ($434) from Truefitt & Hill starts with the Royal Cut followed by The Purifying Regime with a complimentary shave. The Royal Cut will get the groom-to-be's hair cut and styled to perfection while The Purifying Regime's purification mask will leave their face cleansed and looking brighter than ever. It also includes any two of the following: Basic Manicure, Basic Pedicure and Waxing.
It's the perfect pampering session for the groom-to-be and it sure helps ease those pre-wedding jitters!
Every bride should look like a radiant and glowing princess on their wedding day! Gift a bride-to-be with a pre-wedding facial for that dazzling wedding glow.
This Ultra Replenishing Facial ($180) from Spa Esprit combats dehydrated skin with customised botanicals filled with antioxidants, multi-vitamins and collagen using an ultrasonic machine to reach deep into the skin. A hydrating serum is used afterwards to revitalise fatigue and environmentally damaged skin. 
This healing facial will give the bride-to-be's complexion a much-needed boost and ensure she's looking refreshed after all that wedding planning stress. 
If You Don't Know What They'd Like...
Get A Giftano Card!
With the Giftano Cards, recipients can choose from a selection of 1000+ gifts offered, from over 100+ brands… There's always something for everyone at Giftano! Ranging from a price range of $20 to $700, we're sure that you can still gift  to the ones you love without breaking the bank.