What could be a better way to say your congratulations or send your greetings than with a classic gift hamper? Here are 7 hampers from Giftano Gifts that would be perfect for friends, family and even business associates. All hampers even come with a greeting card that you can personalise with your message to make it all the more special and from the heart. 
Give a coffee lover a reason to smile with the Coffee Goodness Hamper ($100)! Help someone to energise and power through the day with freshly brewed coffee.
This hamper includes an assortment of Amedei Tuscano Black dark chocolate treats as it goes particularly well with black coffee to enhance and lengthen their aftertastes. And if one would rather cleanse their palate, we've included some exquisite English biscuits too.
Nothing says 'time to relax' more than a nice hot cup of tea paired with some lovely biscuits. If you know anyone who's been pretty stressed out lately, this is the perfect perk-me-up gift to ensure they get the break they deserve. 
The Tea Time Hamper ($90) includes Taylors of Harrogate Scottish Breakfast Tea Bags, Royal Danish Butter Cookies and Farmhouse Biscuits Spring Time Lemon & Orange Biscuit Tube. An ideal gift for a loved one or a tea time enthusiast!
Chances are, you'd know at least one family member or friend who prefer gin as their alcoholic beverage of choice. In that case, this Gin Gift Hamper ($150) has got you covered! Items in this hamper consist of Hendrick's Gin and Ekobryggeriet Bitter Tonic Water. 
It's impossible to leave out the delightful food pairings when it comes to gin, that's why there are several choices of biscuits for the Alleosse Fourme D'Ambert Affinee Au Sauternes AOP cheese included in the hamper as well. What's not to love?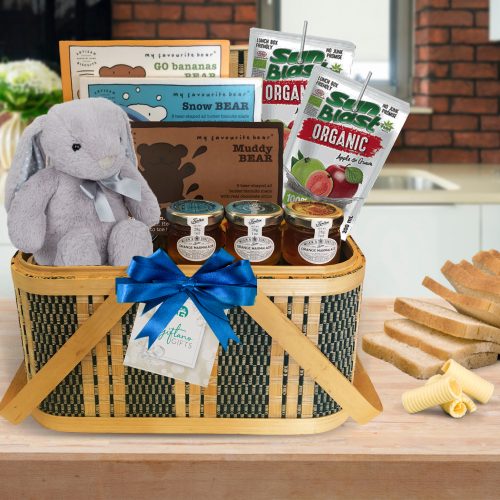 Who said kids can't appreciate a good hamper filled with all the nutritional goodies for a growing child? This hamper is perfect as a birthday gift or to celebrate a special milestone in their life. We handpicked these cute bear-shaped biscuits from Artisan to go along with Sun Blast's 100% Organic Fruit Juice and Tiptree's three mini bottles of orange marmalade. 
This Happy Kids Hamper ($60) will put a smile on any kids' face, especially when they see the plush toy that's included in this hamper.
If you're looking for a hamper that screams festivity, look no further than this! There's no better way to celebrate than with a glass of wine (or two) and you can't go wrong with some chocolates.
Commemorate special moments in life with a bottle of Bottega Brut Millesimato (2018) or share some Anthon Berg Coffee Liqueurs among family and friends. Spread the love and joy to the people you love with the Drink & Be Merry Hamper ($120). 
Similar to the Happy Kids Hamper, this hamper is specially designed to suit any aspiring princess. Show your love for your favourite princess with the Go Girl! Hamper ($80) and make their day!
Packed with the same healthy snacks, this hamper has additional Toblerone chocolates and even a Frozen-themed cookie tin to satisfy her sweet-tooth.
Hampers are a great way to get a personalised gift for someone without having to do all the work. Suitable for almost any occasion, you're sure to find the perfect hamper to convey your message.
Hamper inclusions are subject to changes for similar-valued items depending on the availability.