Aren't we all just waiting for the day this all ends?!
It's been a rough start but now it's time to bring back some of that fun and celebrate life! It's time to break out the CB blues and enjoy special occasions in style with some fun gifts for everyone. And there's nothing better than some simple yet fun gifts to surprise them and spend quality time with the ones they love!
We at Giftano found gift ideas that your friends and family would LOVE and have a chill yet fun time enjoying each other's company post circuit breaker!
Perfect Dining Gift Ideas for families
We all just want to go out and have a fun time with our loved ones. Just a good hearty meal with family would be a great way to spend some time with them post circuit breaker. Choose the perfect dining experience for a friend or loved one to have the best dining experience with their family. Click on the images below to pick your choice!
Re-imagine Italian Gourmet Cuisine with this gift! Perfect for colleagues to have lunch together at one of Singapore's favourite Italian steakhouses. Send them to Bistecca to enjoy delicious Tuscan steaks as they kick start their workweek once this CB ends! Accompanied by great music, the steaks here are absolutely divine! With the freshest of ingredients and generous portions, the family is sure to have a great time bonding while having a delicious lunch at Bistecca.
Read more about Bistecca here.
*Please ensure to purchase the number of gifts corresponding to the number of recipients being gifted to.
A truly breathtaking dining experience for the adventurous one! A great gift for a couple who love to take things to the next level – let them have the most unique dining experience at NOX with this 3-Course Mystery Menu paired with Cocktail. Taking dining to where their senses are heightened above the normal, dining at NOX unfolds a new dimension as they dine blindfolded, allowing them to step into the world similar to their visually impaired servers.
Read more about NOX here.
*Please ensure to purchase the number of gifts corresponding to the number of recipients being gifted to.
A taste of modern British and Irish fusion cuisine awaits…
A great gift for your parents to enjoy an eclectic dining experience! Housed in an aesthetic vintage restaurant, CURE invites them to taste some of the finest contemporary European cuisines in town. The tasting menu paired with wine is truly an extravaganza of wonderful food expertly prepared by Chef Andrew Walsh, leaving the recipient delighted.
Read more about CURE Restaurant here.
*Please ensure to purchase the number of gifts corresponding to the number of recipients being gifted to.
Most romantic date night restaurant ever! Let a friend or loved one take their partner to the perfect date with this gift. Let them dine Skai's Signature Dinner Set for 2 offering 4 courses paired with welcome champagne. The panoramic view with the delicious food is sure to make one fall in love and leave the couple in awe of this magnificent dining location atop the 70th floor of Swissôtel The Stamford.
Read more about Skai Restaurant here.
Gift Ideas for sending them to Relax, Refresh and Rejuvenate
The 2 months of working from home is now creeping to their entire body and they need some relaxation stat! What better than to send them on a retreat of a kind? We found you some amazing ways to treat them to the perfect relaxation therapies!
For a classic, fuss-free massage…
Send your wife or girlfriend to try one of the aromatic blends folded into this muscle-rejuvenating treatment. The Classic Scentsational Massage at Spa Esprit uses a unique combination of Swedish, Hawaiian and Indonesian strokes that relaxes muscle tension along with massaging aromatic oils into their skin, replenishing the inner skin glow. She'll love the zen at the end of this therapy!
Read more about Spa Esprit here.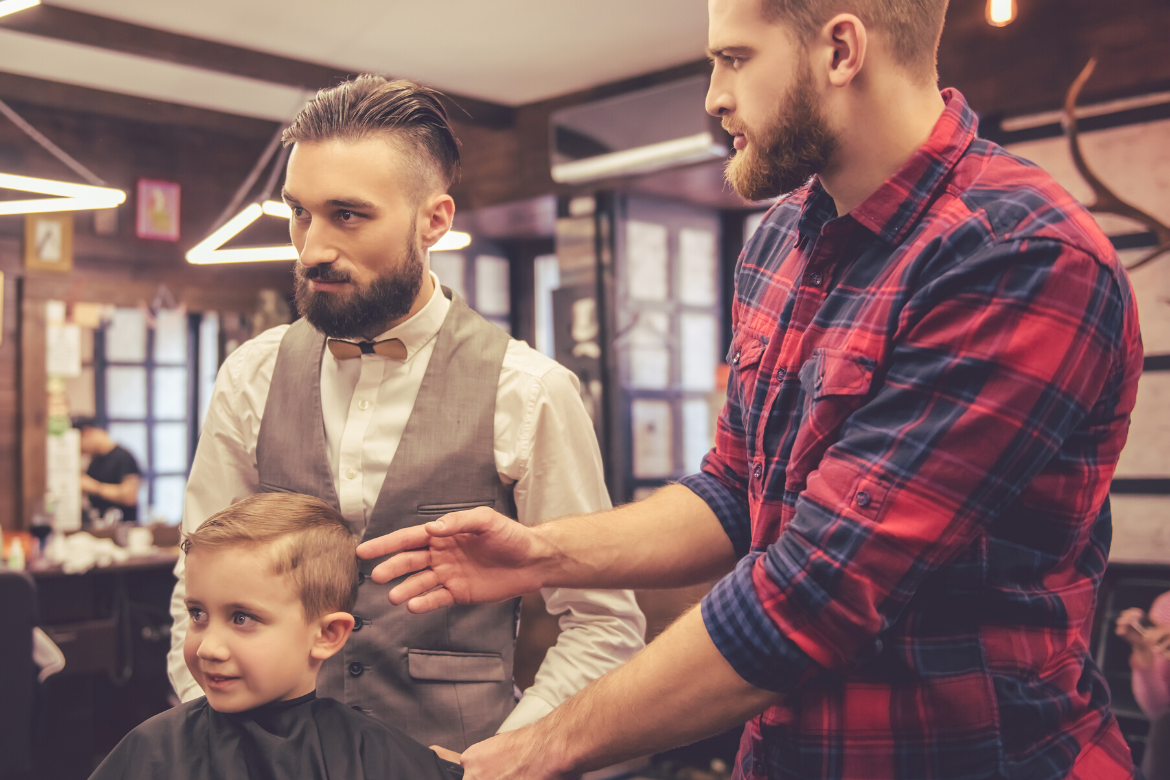 Treat some men to the much-needed classy grooming!
With a spa-level treatment to sculpt their face to perfection, send a father and son to get matching looks at the world's oldest barbershop chain in town. At Truefitt & Hill, their experienced barbers use the most traditional techniques with a modern touch to let the dad get the most handsome shave with a haircut, and the son a matching haircut to look #twinning goals with dad to kick away the CB blues!
Read more about Truefitt & Hill here.
For a girlfriend or wife who's worried about the stress lines catching up! Gift her a good old facial that will bring her skin alive and give her the glow she wants for her first day back at work with this gift. This one-hour classic facial at Spa Infinity will make her skin feel young and smooth, just the way she likes it! A perfect blend of the traditional healing traditions brought to fit the modern lifestyle, this rejuvenating facial is exactly what she needs to leave her CB woes behind.
Read more about Spa Infinity here.
This CB has probably been the most hectic for everyone out there! Gift a friend this perfect spa massage to reach ultimate realms of relaxation with this gift. The Recharge Spa at Aramsa Spa will truly recharge mum with the most intricate therapies like the Lavender Floral Exfoliation, Inner Respite Massage, and an ELEMIS Superfood Pro-Radiance that will give her exactly what she needs…
She'll be sure to love this 'me-time' for herself with this gift!
Read more about Aramsa Spa here.
Being stuck at home during the CB surely brought out the caveman in him! Send your man to get the ultimate makeover at
Sultans of Shave
to look his best self for his first day back to work. Treat him to a luxurious barber experience with this Deluxe Shave and Haircut from Truefitt & Hill. Bringing back the old era's barbery, their trained professionals focus on the comfort of the man above all else with a very relaxed approach to giving the best look to your man. Read more about
Sultans of Shave
here
.
Binging all the K-drama on Netflix has finally caught on to her and you know it! Let her fulfil her K-beauty dreams with this gift. At The Lash Icon, she will find her dream-come-true eye look with the most natural lash lift with even a choice of curl type! One of the best eyelash salons in Singapore, their trained professionals will ensure that her eyelashes will receive the utmost care and fit her new look to match her facial features. She'll be batting her eyelashes and "looking fly" for the longest time…
Read more about The Lash Icon here.
Gift Ideas to Friends for their Perfect Time-out!
For all the missed weekend plans! We scoured through the most fun experiences to give you the top gifts we know they would love to receive! Let them have the best weekends with their besties post circuit breaker with these perfect experience gifts. 
Feeling the winds would possibly be the most fun way to spend their weekends! Gift friends adventurous weekends with these sailing courses. At Constant Wind Sailing school, they will go through some training to understand sailing better, and then be taken to the waters to test their skills. Carried out over three sessions, your friends will be addicted to the thrills of sailing. With the help of the sailing school's professionals sailors, they'll surely become pro sailors by the end of these sessions!
Read more about Constant Wind here.
For the crazy movie fanatics! A bag of popcorn and the latest movie is all they ask for… With Cathay Cineplexes Everyday Movie, they can treat themselves to the best action films to the newest animation movies! Cathay Cineplexes offers movie-goers an unrivalled movie experience complete with state-of-the-art projection technology and their iconic popcorn …Send a friend to their nearest theatres to catch new movies with a friend or partner with this gift.
Read more about Cathay Cineplexes here.
It's been SO long since we've all seen our friends, and now's the time to do something fun! Let a friend have a fun trip with the entire gang and throw a barbeque party on a yacht with this gift! The Weekend Fishing Yacht Charter w/BBQ by Wanderlust Adventures takes 10 onboard to explore Singapore's beautiful blue waters. From catching their own fish to prepping the BBQ to enjoy some delicious seafood, that weekend is gonna be the best break they've had in the longest time.
Read more about Wanderlust Adventures here.
Send a golfer to play golf at Singapore's best and most renowned golf course! Let them have a round of 18 holes golf at Sentosa Golf Club.
Let them have a good time off catching up on all the missed work-life banter while playing on the best turfs out there. Golfers can choose between the Serapong or New Tanjong Golf Course while practising and perfecting their aces. The perfect afternoon getaway for all the golfers out there!
Read more about Sentosa Golf Club here.
With the Giftano Cards, they can choose from 1000s of gifts over 100+ brands… There's always something from everyone at Giftano! Can't pick one now? Choose later! Giftano gift cards are valid for 6 months that allows your recipient to take their time to find the perfect gift for themselves!
We are sure that no matter whom you gift these to, they will have a great time doing these activities with family, friends and loved ones. Nothing like an exciting gift and lovely message to bring up their spirits during the CB blues! Personalize your gifts with a sweet message for your gift recipient to tell them how important they are to you.
All gift cards purchased from Giftano during the circuit breaker comes with free validity extension. If your recipient can't redeem it within the stated time, just call us and let us know! We're happy to make your gifting experience easy!
We reassure you about the continued availability of Giftano Customer Care during this uncertain time. If you have any queries regarding the purchase or redemption of your voucher (including voucher extension), please do not hesitate to contact us at [email protected]. We will also be available via call at +65 6908 5495 from Monday to Friday, between 9 am to 6 pm.