Perhaps you know someone who's been a little down in the dumps lately. Maybe you think that they need some recognition for all the good that they have done… Either way, Giftano is here to make gifting a little easier for you to show your appreciation and instil the love of gifting into your everyday lives. 
Spread some happiness with #GiftanoGiftAway! With plenty of different gifts in our upcoming GiftAways, you could be one of the lucky few to win some amazing goodies to gift to your loved ones. 
The Giftano GiftAway will be launched and announced at any random time for you to start entering! Hints may or may not be revealed about the mystery gifts you can win. You can participate in the GiftAways here.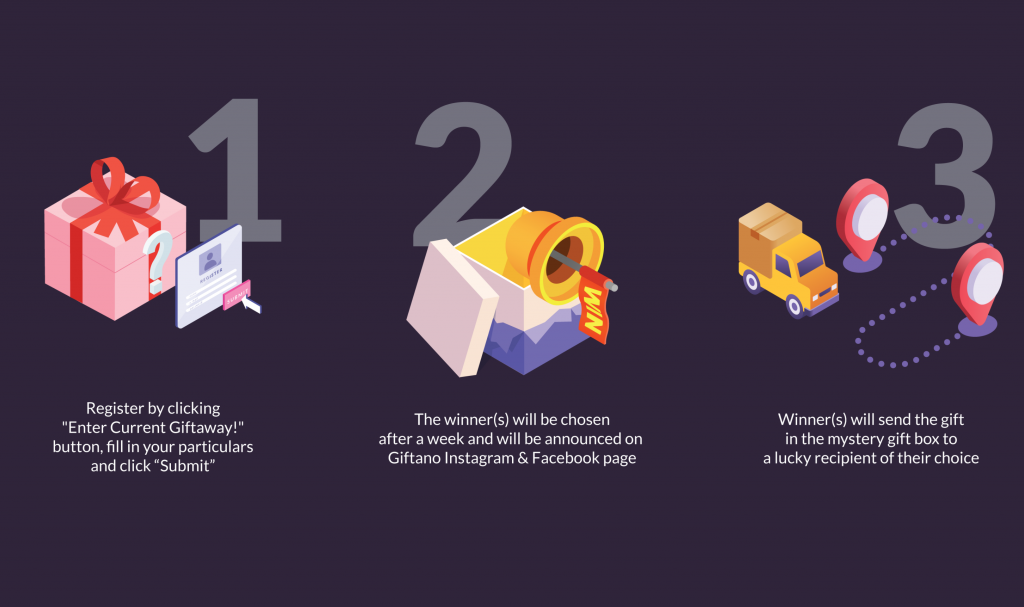 Register for the #GiftanoGiftAway by clicking the "Enter Current GiftAway" button, fill in your particulars and click "Submit"

Winner(s) will be chosen within a week after the GiftAway ends and will be announced on Giftano Instagram & Facebook page

Winner(s) will get to send the gift in the mystery gift box for free to a lucky recipient of their choice
Increase your chances of winning by sharing this GiftAway on your social media accounts and don't forget to tag @/giftano!
One of Singapore's most unique restaurants, NOX – Dine In The Dark is where one can, you guessed it, dine in the dark! Embark on a culinary journey through taste, smell, touch and sound in pitch-black darkness. Guided and served by blind or visually impaired individuals, guests can indulge in the mystery menu and experience a dining experience unlike any other. 
Congratulations to all the winners from the October 12 #GiftanoGiftAway!
Esther Li
Calina Poh
Jenny Poh
Soh Boon Guan
Mera Tan
Some of the messages that we received were so sweet that it brought tears to our eyes:
"18 Years of Love and Togetherness! I can't help but to look at him sometimes.. Thinking to myself how thankful & blessed I met you on my 43 years old… Having you in my life is something really amazing.. And I'm really fortunate to have found a man like you."
–
"You will spend time with our kids even though you are tired. The small things that you do on a daily basis help keep our relationship smooth and loving. You give me countless reasons to smile daily and I love your crazy sense of humor."
Once again, congratulations to these lucky winners! Stay tuned to our space on Instagram and Facebook for our next GiftAway. The next lucky winner could be you!
Giftano is an online gifting platform that allows you to buy all kinds of gift, varying from instant gift cards and gift vouchers to experience gifts and gift products online in Singapore. You can find great gift ideas from your favourite restaurants, retail stores and brands on our website and gift it to your friends, family, and loved ones. At Giftano, we pursue to make shopping gifts easier by having a premium selection of gifts in different categories for you to choose the perfect gift for any occasion.   
Make your gift special and personalised from the comfort of your home by having your gift sent to the addressee as an e-gift or physical gift delivered for free right to their doorstep. Shop for your gift cards, gift vouchers, experience gifts and gift products from Giftano.com today!